Guide to the most haunted hotels Wisconsin has to offer for a spooky getaway
Wisconsin always ensures to offer the finest experiences to its guests.
So, when it comes to the most haunted hotels in Wisconsin, you can expect the same excellence. 
Imagine an uninvited guest knocking on your hotel room and suddenly disappearing when you open the door. 
How does it feel being chased by a mysterious shadow or waking up to violent screams at night?
Well, these are just some of the many experiences that haunted hotels in Wisconsin can offer you. 
Haunted adventure seekers are sure to enjoy some spine-chilling moments here.
The frightening stories and mysterious incidents at the haunted hotels in Wisconsin can make your heart miss a beat. 
The fall is the best time to visit this gorgeous city and explore its eerie destinations.
Many ghost tours are also arranged in the city for making your Halloween vacations super scary. 
Here is a list of the 10 most haunted hotels in Wisconsin if you are courageous enough to take this challenge!
Thanks to affiliate links, I pay my bills. If you make a purchase through them, I may receive a small commission at no cost to you. As an Amazon Associate I earn from qualifying purchases. All opinions are always mine. Merci!
Useful Travel Information for Wisconsin
✎ Plan the ultimate Wisconsin road trip (no backtracking!) with the Perfect Wisconsin Road Trip itinerary – Get it here

✈ Find the best hotel deals in Wisconsin with Trivago

➳ Book vacation rentals in Wisconsin with VRBO

✔ Book tours in Wisconsin with Viator

☘ Get the best discounted outdoor gear (outlet) at REI.com

$ Get Wisconsin hiking guides and maps at REI.com

✎ Never leave without travel insurance. I get mine at SafetyWing. It is easy to set up, cheap, and reliable.
1. Pfister Hotel ****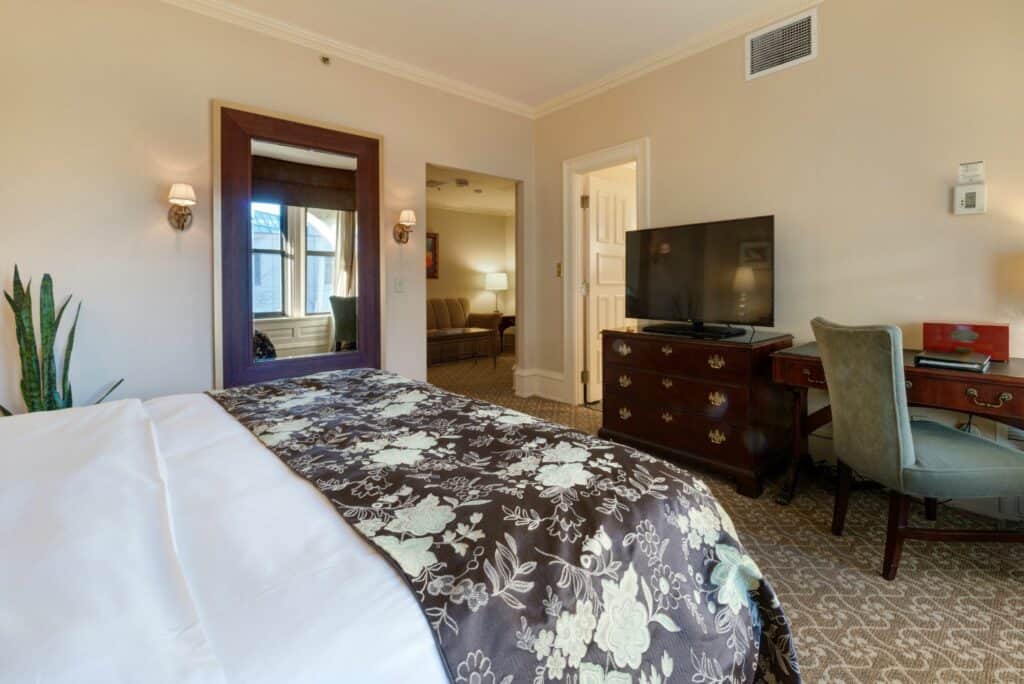 Where: Milwaukee, WI
Highlights: Relaxing spa offering individual and couple massages; Brilliant dining options
The Pfister is a renowned four-diamond luxury hotel near Milwaukee's historic Third Ward.
Constructed in 1893, it is known to be one of the most haunted Wisconsin hotels, and is said to be frequented by its owner Charles Pfister's ghost, who likes to keep an eye on his property. 
The staff and guests have shared many spooky stories about some Pfister Hotel haunted rooms.
Even professional baseball players that visited this hotel have narrated about strange sounds and sightings in the hallways.
Out of fear, some of the players even said they had to sleep with their bats for protection!
For a close paranormal encounter at the Pfister, you can book your room on the hotel's second floor.
There have been instances of spotting the ghost on the staircase leading to this floor.
The hotel is also known for its exceptional service, world-class dining options and magnificent architecture.
If you are looking for romantic hotels in Milwaukee, this is a wonderful choice with great packages. 
The Pfister is also one of the best pet-friendly hotels in Milwaukee, so take your furry friend along on your adventure. 
Check prices & availability here
2. Astor House Bed & Breakfast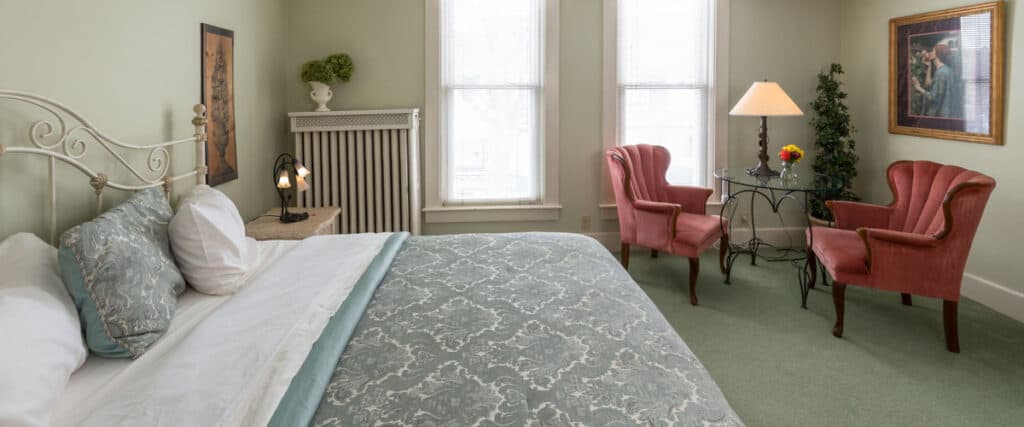 Where: Green Bay, WI
Highlights: Delicious breakfast with freshly-brewed coffee served every morning; Only place to get Scotty P's biscotti
Astor House is a haunted bed and breakfast Wisconsin has for an unusual experience – it also happens to be one of the top hotels in Green Bay!
Located in the heart of Green Bay, the hotel is believed to be haunted by its former owner Doctor Julius Bellin's ghost. 
Guests of Astor House have spotted uncanny sightings in its parlor during early morning hours.
This is the same place where guests are welcomed and served delicious breakfast every morning. 
The B&B features five beautifully decorated guest rooms with top-class amenities, and most rooms have facilities like whirlpools and fireplaces for a remarkable vacation.
For even more eerie experiences, you can visit the Terror on the Fox haunted house which is located nearbby.
This famous place for Terror Train rides is just a short drive from the Astor House and an absolute must if you are looking for a spooky getaway.
It's definitely one of the top things to do in Green Bay in the fall.
Green Bay is also one of the best destinations to witness fall colors in Wisconsin.
If you want to enjoy family-friendly fall activities in Wisconsin, there are wonderful options nearby.
You can head to the Botanical Gardens or the Wildlife Sanctuary located just a few miles away.
Check prices & availability here
3. Hotel Mead and Conference Center ****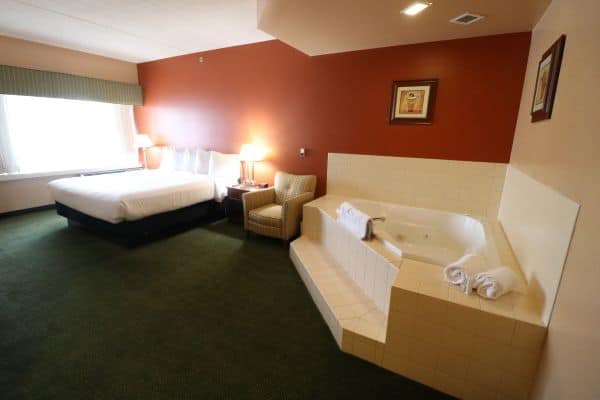 Where: Wisconsin Rapids, WI
Highlights: Renovated and spacious rooms with 9-foot ceilings
The iconic Hotel Mead in Wisconsin Rapids combines historic charm with contemporary décor.
The stories about this haunted hotel in Wisconsin will send a chill down your spine. 
The hotel's basement which is now used to store wines is said to be possessed by the spirit of a murder victim.
Referred to as the Shanghai room, this basement is one of the most haunted places in Wisconsin.
Paranormal activities like the flickering of lights and violent shutting of doors by themselves are common here.
It also constantly remains unreasonably cold and people claim they can still smell the odor of blood here. 
Regardless of ghosts in the basement, Hotel Mead always goes the extra mile to make your stay as comfortable as possible.
To do so, they offer fantastic amenities and it is an ideal spot for business travelers, families, and couples alike. 
For example, to have a relaxation stay, Hotel Mead has a large indoor pool, hot tub, and sauna that all guests are welcome to use.
Additionally, there are outdoor patios and gazebos to spend memorable time with your family and friends
Wisconsin Rapids is also one of the best Wisconsin fall getaways with attractive fall golf packages.
Check prices & availability here
4. Hotel Retlaw, Trademark Collection by Wyndham ***
Where: Fond du Lac, WI
Highlights: Pet-friendly accommodation
Hotel Retlaw in Fond du Lac opened its door for guests almost a century ago in 1923.
This beautiful neoclassical hotel features modern and thoughtful amenities throughout and is ideal for a luxury stay in Wisconsin.
But Hotel Retlaw has a darker side too, and it's a must-visit if you are looking for Wisconsin haunted hotels to witness otherworldly activities.
The hotel is said to be haunted by the spirit of Wisconsin hotel Magnate Walter Schroeder. 
Its seventh floor, particularly room no. 717 is where most people have had frightening experiences.
Screaming noises, kicking at the door and even suspicious hair pulling have kept some guests up all night.
You might want to keep the tv remote safe with you as sometimes channels also change automatically. 
The spirit that loves to prank the Hotel Retlaw employees has also made cups and ice fly once.
Whether you want a fright or not, Hotel Retlaw is a great place to stay during cool weekend trips in Wisconsin with family.
The on-site dining options are impressive and they serve delicious breakfast every morning.
The hotel is also pet-friendly and has many places for fun family activities in close proximity.
Check prices & availability here
5. Best Western – Hotel Chequamegon ***
Where: Ashland, WI
Highlights: Spectacular views of lake superior; Amazing gathering spaces and outdoor seating options
It is known that Northwoods offers some of the best Wisconsin fall getaways with its mesmerizing beauty.
However, did you know it also has one of the most haunted hotels in Wisconsin?
The Best Western Hotel Chequamegon on the shores of Lake Superior has a terrifying history of unusual sightings and sounds. 
It was originally constructed in 1877 and rebuilt after it was destroyed by a fire, but it is said that some of the old guests chose to stay in the hotel forever!
If you are brave enough, book into the rooms from 312 to 314 which are believed to bethe most haunted. 
Guests of the hotel have noted things moving inexplicably and some have even spotted strange figures walking. 
Although it is possibly the most haunted hotel in Wisconsin, the Hotel Chequamegon offers supreme comfort and relaxation.
For guests pleasure, it has an indoor pool, hot tub, cocktail lounge and lakeside seating.  
One of the best things to do in Wisconsin in October is to see the fall colors – and while you are staying at Hotel Chequamegon, you will get plenty of opportunities.
You can stroll along Ashland's Lake walk trail or go kayaking and paddle boarding for some of the best views.
Check prices & availability here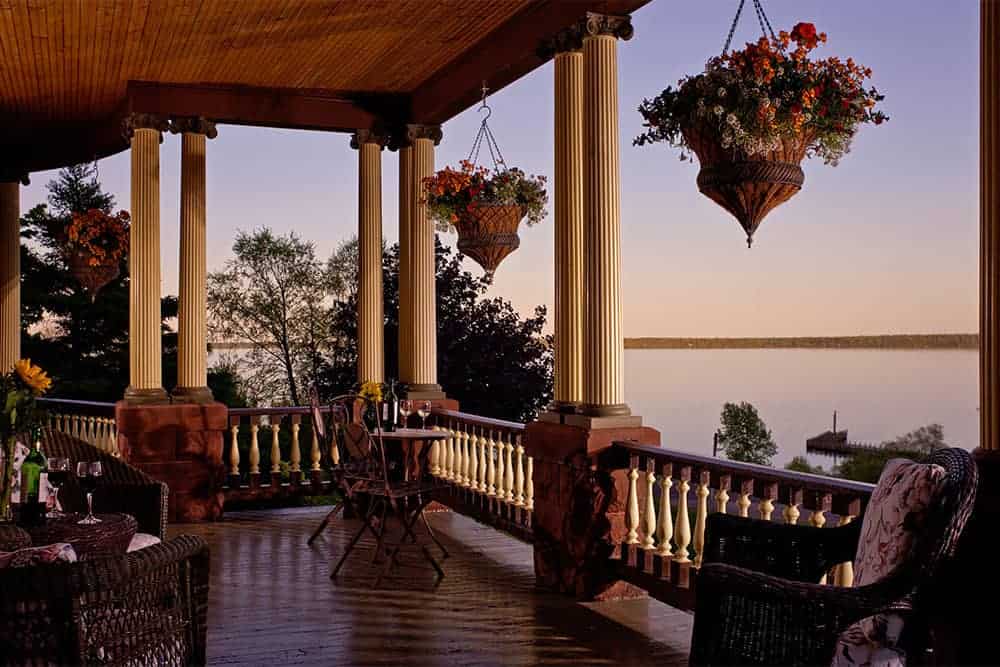 Where: Bayfield, WI
Highlights: Captivating Victorian-style decor
Old Rittenhouse Inn is situated in Bayfield which is known as the most haunted place in Wisconsin.
It is just a few blocks away from Lake Superior which is popular for many creepy stories.
People have felt the presence of a tall spirit dressed in white at the Old Rittenhouse Inn.
It is believed that ghosts like to roam around on the front porch of this gorgeous bed and breakfast.
If you fancy spending your next vacation in haunted houses in Wisconsin, this is a perfect choice.
The Old Rittenhouse Inn has 2 Victorian mansions featuring 20 gorgeously decorated guest rooms and suites.
It also offers private cottages with whirlpool tubs and fireplaces ideal for a romantic getaway. 
If you are looking for some unique Wisconsin vacation ideas, you can take a haunted history tour in Bayfield.
You will get a chance to visit many haunted locations in Wisconsin like the Knight House & Greunke's First Street Inn. 
You can also enjoy fun fall festivals in Wisconsin like the Bayfield Apple Festival.
For a day trip, hope over the the Apostle Islands and check out all the amazing things to do in the Apostle Islands!
Check prices & availability here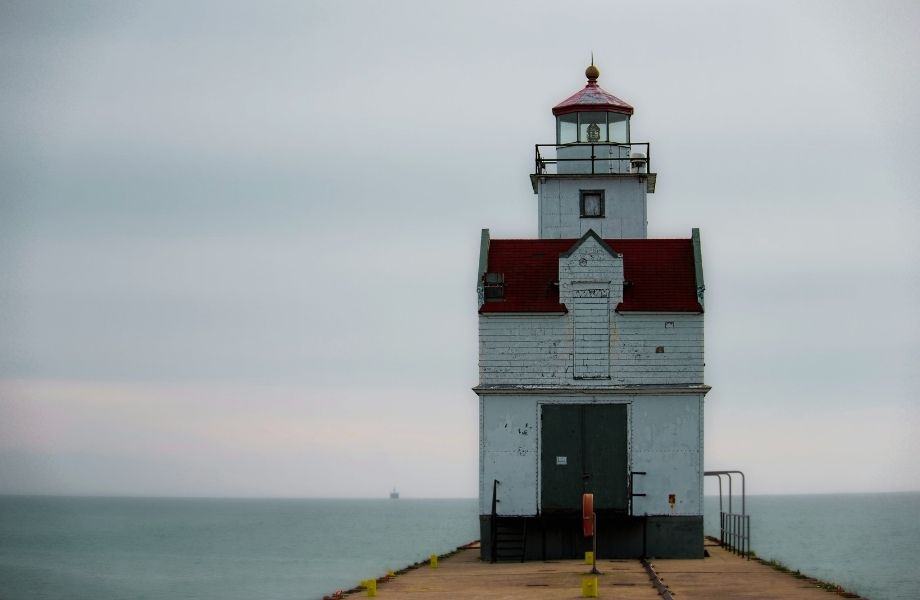 Where: Kewaunee, WI
Highlights: Existence of century-old art, craft and architecture
The Historic Karsten Inn is a haunted hotel in Kewaunee Wisconsin with incidents that will make your blood run cold.
It is said to be haunted by the spirits of three people closely associated with the hotel.
The first is its founder (and namesake), Karsten, as well as his 5-year-old grandson and a housekeeper. 
The second floor of the Historic Karsten Inn, which has the founder's suite, has a strange and distinct smell of lingering cigar smoke.
The little boy's spirit is believed to run around the hallways and to go and visit his grandfather.
Apparently he also loves to play with any children that visit the hotel.
According to the history of the Karsten Hotel room no. 310 is where the housekeeper used to stay, and her spirit still lingers there.
People have heard crying noises and knocks coming from from 310, and if you smell a flower, you'll want to look around as she might be nearby. 
Although these stories make the Karsten Inn one of the most haunted hotels in Wisconsin, it is admired by many as a fantastic place to stay.
The Inn features 23 rooms that blend traditional architecture with modern comforts and the owners go above and beyond to make every stay special.
Not to far from the hotel you'll find the Kewaunee Pierhead Lighthouse, which is one of the best lighthouses of Wisconsin.
Check prices & availability here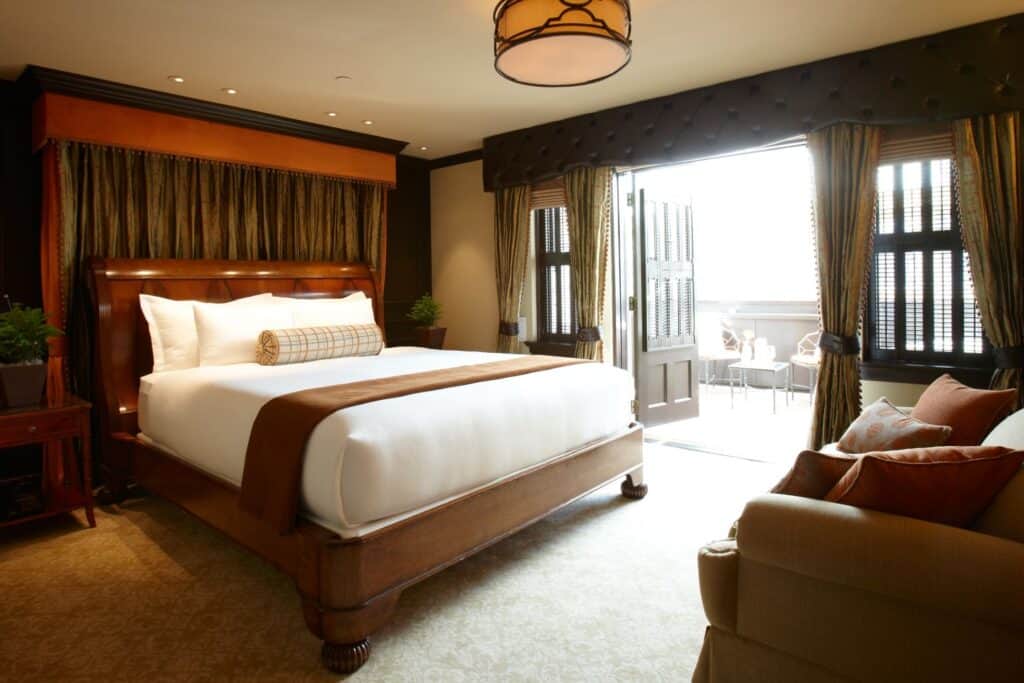 Where: Kohler, WI
Highlights: Rejuvenating spa offering hydrotherapy treatments
Opened more than a century ago in 1918, The American Club in Kohler is one of the most haunted hotels Wisconsin has.
This five-star and five-diamond hotel is known to offer unforgettable guest experiences with its hospitality. 
However, if you are hunting for a ghostly experience, you won't be disappointed either.
Many paranormal activities are said to happen in the hotel's east wing which is its oldest area.
Many guests at The American Club have reportedly spotted the ghost of a woman near the fireplace.
Some have also said to have seen the spirit of a woman who hanged herself in the hotel's room no. 209.
There have been other instances of guests seeing ghost-like figures which the security cameras fail to capture.
Luckily, the rooms and suites of The American Club are equipped with luxurious amenities to make up for any minor hauntings.
For couples looking for romantic hotels in Wisconsin, the hotel offers many impressive packages to offer with in-room gifts. 
It is also one of the best spa resorts in Wisconsin with innovative hydrotherapy services and nourishing treatments.
Besides rejuvenating massages, you can also enjoy fantastic cuisine at The American Club. 
Guided hiking tours and culinary festivals are the top events that you shouldn't miss here during the fall.
Check prices & availability here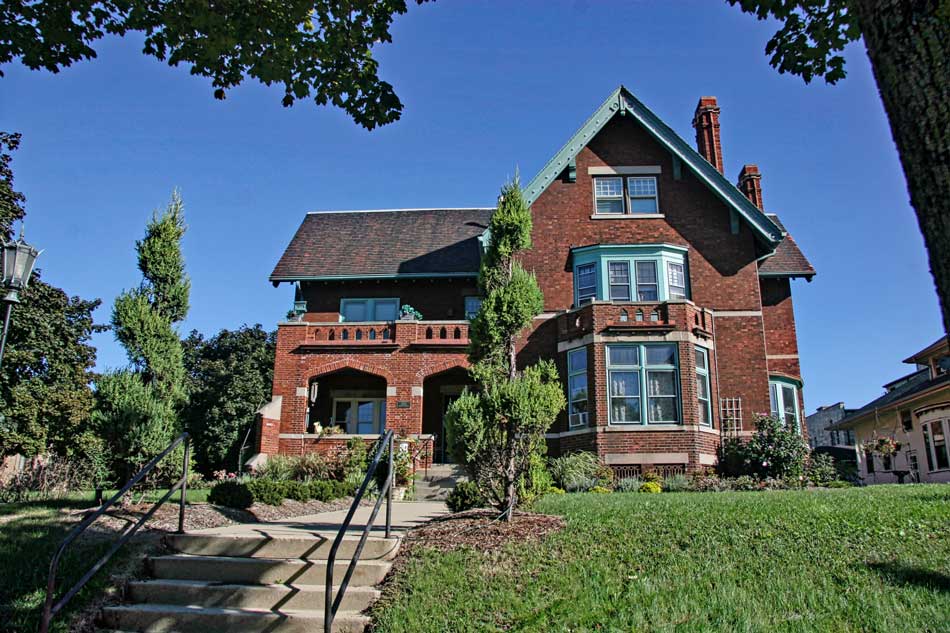 Where: Milwaukee, WI
Highlights: Scary ghost hunt events
If you want to know where to stay in Milwaukee for a spooky getaway, the Brumder Mansion is a great option.
The majestic Brumder Mansion was built in 1910 and is an architectural marvel.
It was built by businessman George Brumder for his son but he, unfortunately, died before its completion.
Howver, his spirit is said to still be present in this Milwaukee haunted hotel. 
Guests of Brumder Mansion have also had frightening dreams of a mysterious woman and felt the presence of a child's spirit.
This is undoubtedly the most haunted hotel in Milwaukee with shadows, footsteps and humming noises being heard frequently outside rooms.
The spirits of two associates of gangster Al Capone are also said to be present in the basement. 
Despite being one of the most haunted hotels in Milwaukee, the Brumder Mansion is also perfect for a romantic getaway. 
It has 5 guest rooms and suites each with a unique style and decor.
Additionally, all the rooms have cozy fireplaces and four of them even have a whirlpool. 
You'll find some of the most unique things to do in Milwaukee year-round close by.
If you're visiting in the fall, there are also some of the best things to do in Milwaukee in October.
For extra thrills, a Ghost Hunt event is also held here where you can participate and perhaps meet the ghosts.
You can also visit other haunted places in Milwaukee like Shaker's Cigar Bar nearby to Brumder Mansion.
Check prices & availability here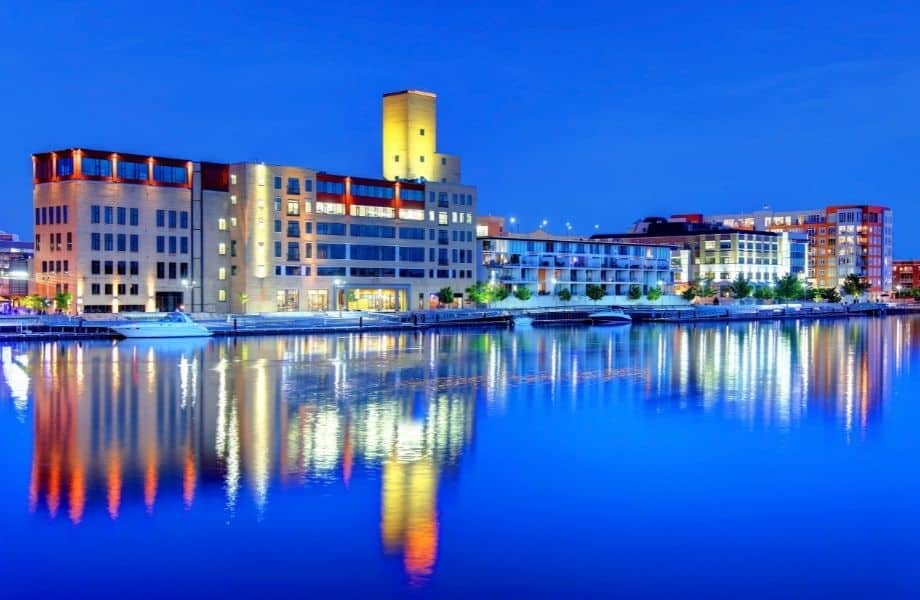 Where: De Pere, WI
Highlights: Impressive food and wine menu
The Union Hotel in De Pere is an iconic destination that attracts guests with its old-world charm.
It was built in 1883 and its restaurant Supper Club is extremely popular among locals and visitors alike. 
If you are fond of ghost stories, it is one of the best hotels in Green Bay to book your stay. 
There have been unexplained incidents from lights turning on and off to strange voices in the bar. 
Its basement, infamously referred to as the Ghost Alley makes it one of the most haunted hotels in Wisconsin.
People have also witnessed some mysterious shadows in the basement of the Union Hotel. 
The creepiest part is that some have reported the sensation of somebody standing and watching them.
But whenever guests approach to talk to them, they vanish inexplicably. 
The Union Hotel has been managed by the same family for more than a century and takes pride in having repeated guests.
Most of the rooms have changed with time to accommodate the needs of the new generation, however, there are still some historic rooms with features like shared hall bathrooms. 
The hotel is within a walking distance of De Pere Riverwalk, which is a great spot for a romantic stroll, especially in the fall.
The downtown shopping hubs are also nearby to collect some cool souvenirs.
Check prices & availability here
---
Short FAQ About Haunted Hotels in Wisconsin
Are there any haunted hotels in Wisconsin that you can stay at?
Yes! There are actually a handful of haunted Wisconsin hotels that allow guests. A few of them are some of the best luxury hotels in Wisconsin!
What is the most haunted hotel in Wisconsin?
Are there any haunted hotels in Milwaukee?
---
Before You Go: Top Tips for your Trip 
---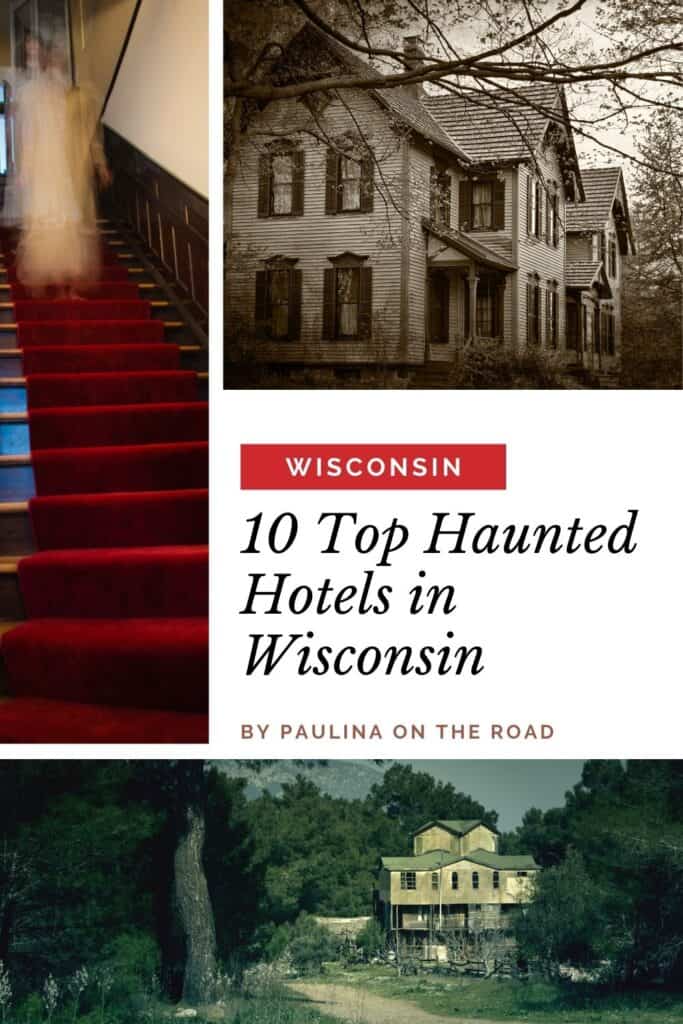 ---